What Is The Average Female Model Height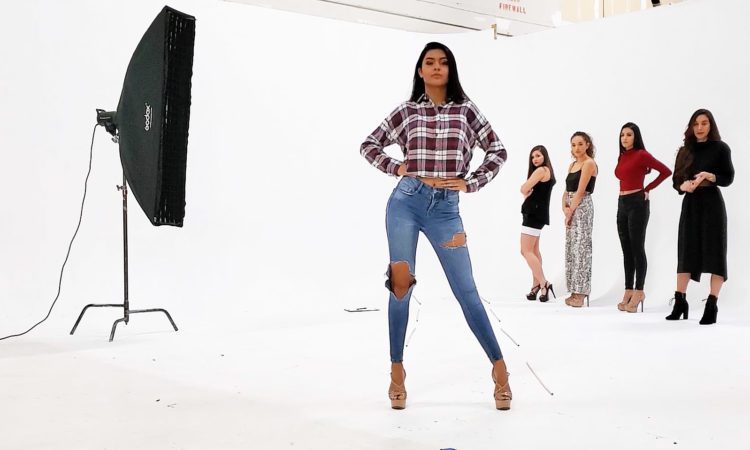 NGM Modeling is supported by its audience. When you purchase through links on our site, we may earn an affiliate commission. As an Amazon Associate I earn from qualifying purchases.
Most people think of models as being tall and thin, and with good reason as the average female model height is 5'7″. Models are needed for a variety of jobs and not all jobs require tall models though, so if you are not 5'7″ inches tall there are still many places you can fit into the world of modeling.
Average Female Model Height
To get an idea of the average female model height needed for modeling we need to look at each sector individually. Runway modeling will have different requirements than print modeling, and the heights can vary wildly as you get away from runway modeling.
Runway Modeling Average Height
The average height of a female runway model is 5'10" and the minimum height requirement is usually 5'9″. There are several reasons for this height requirement. Designers want their clothes to look as if they will show you off in a certain light and they usually want tall models to display their newest fashions. Their belief is that customers will think their clothes will make them look like the models. There are also some practical reasons to having all of the models in a fashion show be the same height. Designers can switch clothes out on the models at a moments notice if they are all basically in the same height and weight range.
At smaller local fashion shows you'll start to see this height requirement relaxed, if one even exists at all. Generally in smaller shows the designers have a harder time getting models with a good runway walk, so even if you are only 5'4″ you'll get picked if you posses a quality walk.
The bottom line for fashions shows and clothing lines is money. If you can prove you will be an asset to their bottom line you'll get picked at any height. A model with 10 million social media followers could walk in almost any show they wanted even if they were only 5'2″, just based on the eyes it would bring to the show and designs.
If you don't posses the ideal height for the runway but still want to do fashion shows, start with practicing your walk until it is perfect and build up your social media following.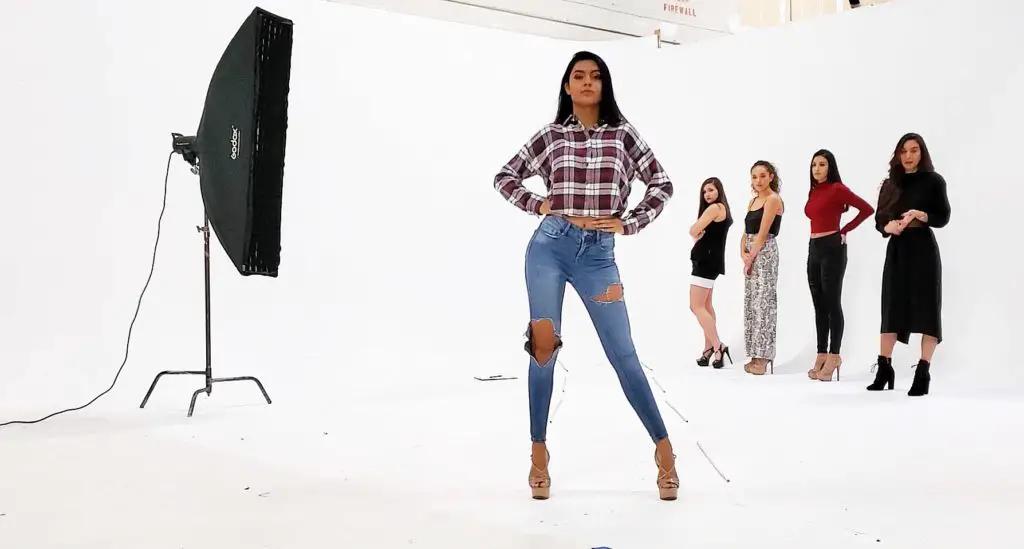 Print Modeling Average Height
The average height of a female print model is 5'4″ but there is usually no specific height requirement. In print modeling photographers want models who are a little on the shorter side for a few reasons. Female models need to be shorter than the male models in the pictures or they will come out with an odd look to them. Female models should also be shorter than the photographer or they will end up shooting up at them which is not a flattering look.
For group print modeling shoots all of the models need to be around the same height or again the photos will look off. Since most models that do print modeling are in the 5'2″ to 5'6″ range, these are the ideal heights for a female print model.
Fitness Modeling Average Height
The average height for a female fitness model is 5'7″. Most professional athletes are quite tall and our image of what looks athletic is shaped by this. Athletic companies search for female models in the 5'5″ to 5'9″ range for fitness models.
Of course being a famous athlete will help you get selected at any height, but odds are you'll naturally fall into this range anyway.
Plus Size Modeling Average Height
The average height of a female plus size model is 5'6″. More frequently female plus size models are being used for fashion and runway shows. As this use increases the average height is increasing as well. The height requirement is still well below that of a runway model, but is much higher than print modeling.
If you are an aspiring plus size model work on your runway walk. There were many years where runway modeling was not an option for plus size models, so many never bothered to work on their walk. This has created a shortage of plus size models who can do a solid runway walk. If you want to stand out quickly in the world of plus size modeling a killer walk is a great first step.
Average Height Of Promotional Models
The average height of a female promotional model is 5'5″. There is usually no height requirement for promotional modeling. Instead of height, promotional models must look attractive and have an engaging personality to draw customers to a booth, product or event. If you are a model who is very outgoing you should think about giving promotional modeling a try.
Average Height of Petite Models
The average height of a female petite model is 5'5″ tall. This is just the average though, so if you are only 5'4″ or below you can still totally model in this field. Petite models are needed for certain clothing brands or projects where a taller model just won't fit. Petite models are also often hired due to their enormous influence on their peers. If you have the ability to sell a product to your following you'll be in high demand as a petite model.
How Tall Are Victoria's Secret Models
The average height for Victoria's Secret Models is 5'10". The shortest Victoria's Secret model was Laetitia Casta at 5'7″ and the tallest was Karlie Kloss at 6'2″. Almost all Victoria's Secret Models stand at heights between 5'9″ and 5'11". Through the years, the models who have done the most shows usually are 5'10" tall. If you are looking to be a Victoria's Secret Model the ideal height is 5'10".
Whatever height you stand, there is a place for you to model. The ideal height for a female model is 5'9″ as it allows you to model in just about any type of job. If you are shorter or taller than 5'9″ though there are still plenty of opportunities.
To see what opportunities you might have with NGM Modeling check out our apply page.